Families come in all shapes and sizes. It can be hard to take part in an employee relocation as a single individual, but it can be even more challenging with a larger family. Not only do you need to take your desires into account, you also need to address the wishes and concerns of your loved ones at the same time. When moving a large family, you need to consider both the physical and psychological needs of your spouse, children, and even pets. It's not an easy task, but it can be done with the right planning.


Having a family means that you have more responsibility on your plate, but that doesn't mean that the employee relocation and move should be a negative experience. We've found that when all family members are involved and take ownership in the decision-making process it can be an enjoyable experience for everyone.
It's important to remember that you are not the first family to relocate far away for a work opportunity. It's common in today's word for entire families to relocate to new places for work, and some do so multiple times. An ideal relocation opens the door to both an exciting and financially rewarding opportunity for your entire family.
Relocating your family is going to cost some money and these costs will increase substantially if you are moving overseas. Ideally, your employer will be providing an employee relocation allowance that covers much of the expense. Planning ahead and taking into account all of the elements involved in the relocation is the best way to optimize your expenses. It pays to be prepared.
Take a one-on-one approach with each of your family members, especially with children. Younger children are probably going to have a high level of attachment to their home and their surroundings. It will be easier news for them to swallow with some notice and you can encourage them to help in the planning process. Having a larger family means there are more people to lean on during the process. Remember, each of your family members will handle the transition differently.
Work with your children to make future plans based on their interests. Research the various schools, recreation activities, parks, shopping malls, and transit with your kids and focus on the positive elements of your  new home. Simple things such as allowing your children to pick the paint colour of their new bedroom can help a lot. Children can be very resilient, but their feelings need to be considered. Things will probably be hard for them during an employee relocation and there's nothing wrong with that.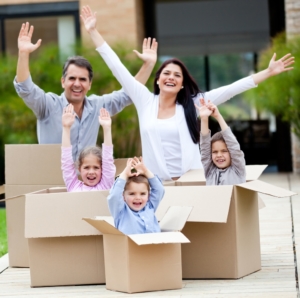 Many families find that packing up early saves them a lot of stress down the road. A large household tends to collect a lot of stuff, so you'll want to go through everything and decide what you want to keep and donate or sell the rest. The packing process can become a fun family activity with the right perspective. With more hands-on-deck, the job will become a lot easier and might save you some money. You will probably be surprised by the number of things that are broken and those that are no longer needed. Use your move as an opportunity to declutter.
Start the moving process as quickly as possible. It can be easy to procrastinate and delay everything but starting early is always best. There are many moving pieces to an employment relocation and you'll need to stay on top of each of them.
Technology is your friend during a move. Create a digital list of everything in your home and share amongst your family. This is a great way to take inventory of everything, plan for packing and get an accurate estimate of costs. You'll find that certain items such as clothing, hygiene products, passports, and chargers for your electronic devices will need to be accessible quickly and you won't want to throw them in the back of a truck.
The process continues once you arrive at your destination. Don't be afraid to get out there and explore your new home. There's something exciting about getting out of your comfort zone and that's one of the greatest things about moving to a new city. Put away the computer, turn off the television and experience everything your new home has to offer and do it with your entire family. At first, this can feel like a hard thing to do, but it will make your new surroundings quickly feel like home.
Regardless of the reasons behind the employment relocation, you are trying to do the right thing for your family and taking the moving task on as a family is the best way to have a successful transition. No one says that moving a big family is easy, but we've found that planning and communication can make things a lot easier.
At Welcomehome Relocations, we've been helping families of all sizes with employee relocations, both domestically and abroad. Our team of experienced moving experts are there to walk you and your loved ones through the entire relocation process. Have a question about your upcoming move? Contact us today! We've love to help make your employment relocation an exciting and fun family-bonding experience.
For more information on the services Welcomehome can provide to assist you with all aspects of your family move, visit the following pages: Area Orientation, Move Management, Settling-in Assistance, and our Rental Search page.
For additional blog posts that include helpful tips and useful information, visit the following links:
6 Tips for a Successful Employee Relocation
Moving with Children
Moving with Pets